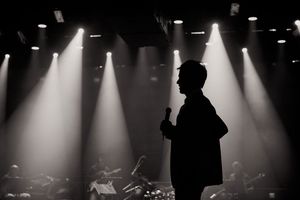 Contact Christos
COACHING REVIEWS
5⭐ Experience! 
"Mr. Alexandrou is a great vocal teacher. He helped me with my range and breath control! I highly recommend- " ~ Simona O. 
---
Better than you could ask for 
"Christos really knows what he's doing - he's the real deal. He knows how to get you to where you want your vocals to be, and is really friendly along the way. It was fun, but never intimidating, working with him. 100% suggest!" ~ Caleb B.
---
Emotional tech specialist 
"He focused on a more emotional aspect of singing. Even though my vocal technique is not completed, he gave me some hints to make my emotion develop among singing." ~ Mare K. 
---
"So Much Better" 
"Christos really pushed me to go out of my comfort zone with my voice, and helped me to feel more comfortable belting." ~ Maranda R. 
---
My loving teacher! 
"He is excellent ever!! His teaching is easy to understand. How to use the body, power, vowel... And also his character is great! I had a great experience. I really want to follow him !" ~ Aya N. 
---
Passionate, demanding, and professional 
"I have been learning a lot with this vocal coach, now I understand and I know better how to work with my mix-voice and how to communicate when I am singing. His experience and professional abilities are inspirational." ~ Paloma D. 
 Christos made me a professional!  
"I've been taking voice lessons from Christos for two years now and have booked serval professional gigs (including singing in a major film) because of him. His warm and kind demeanor lend themselves to his teaching style. It's amazing what he can pull out of you. You'd be a fool not to take from this man." ~ Kenneth M.  
---
I DEFINITELY recommend him!  
"I have worked with Christos on two different projects within the past year! — 'Jesus Christ Superstar' and 'Crossroads, a musical journey.' Christos is always a pleasure to work with; he is both professional (not in an intimidating way) and knows how to make you feel comfortable. I have worked with him in both private and group settings. Christos does a great job at addressing each person's individual voice - no matter what stage of their singing trajectory they are on. When you are able to implement his notes and exercises, you'll be amazed by how much you have improved!" ~ Kevin R.  
---
I love Christos' lessons!!  
"I've learned a lot of things from him. I took many times his lessons. He has his method, I love that!! He is friendly, kind and with a great personality. When we meet again, I want to take his lessons :)" ~ Tomomi M.  
---
Creme de la creme - the best of the best!  
"He not only helped me to sing better but to sing healthier. Not only to reach a note but to reach an 'emotion'. The why and the how. And all while being witty, funny and the amazing person he is." ~ Paloma M.  
---
I think he is a brilliant record producer.  
"I'm not good at English, but his lesson was easy to understand. I was not an actor, I just helped a stage. I wanna help a stage again. And soon I want to take his lesson!" ~ Hiyori W.